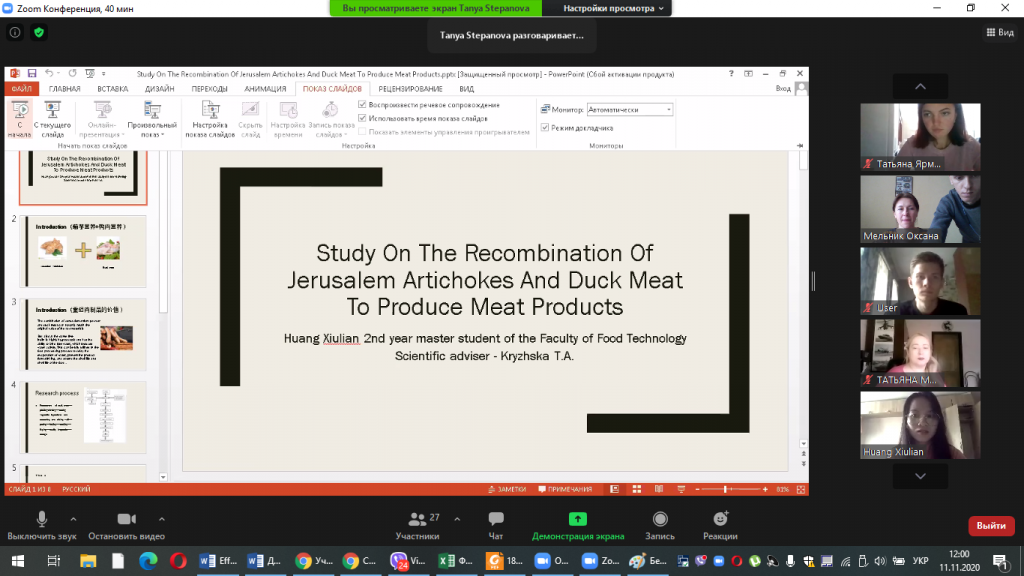 On Wednesday, November 11, 2020, a meeting of the scientific and practical conference of teachers, graduate students and students of the Faculty of Food Technology of Sumy NAU. Due to the quarantine regime, the event took place online on the ZOOM platform.
In total, more than 25 young scientists of the Faculty of Food Technologies submitted their work to participate in the conference. Among the participants were also young scientists from China. During the online conference, participants presented reports on their research that they plan to implement in the workplace, as well as shared their scientific experience.
Students and teachers of the Faculty of Food Technologies "gathered" to listen to the reports of their colleagues and support the pupils. Deputy Dean for Quality of Education and Research of the Faculty of Food Technologies, Stepanova Tetyana Mykhailivna, prepared warm words to all those who made a research contribution to the conference. "I am very grateful to the students and their supervisors, who, despite the quarantine, were still able to deliver reports. Of course, we were counting on a slightly different scale and format of the conference. However, I am sure that the online mode of participation in the conference will be another useful experience for each of us, "said Tetyana Stepanova. Oksana Yuriyivna Melnyk, Dean of the Faculty of Food Technologies, also addressed the young scientists and spectators with a welcoming speech: "I am very glad that our conference is still taking place and we can share our scientific experience even at a distance. Today we have a great opportunity to listen to the reports of our young scientists, so I wish everyone success! "
During the presentations, each listener had the opportunity to ask questions in a chat or chat with young scientists after the speeches. Thus, the remote format of work did not interfere with the quality exchange of scientific information.